Our School Logo, School Song and Students' Pledge 校徽, 校歌, 学生誓约
Our School Logo 校徽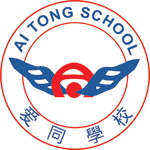 The school name reflects that Ai Tong School was founded out of love for children in 1912. The Chinese characters "爱同" were derived from the phrase, "love to all and sundry".
爱同学校创办于1912年。 校名取自"博爱大同"里的"爱同"两个字。"博爱"的意思是普遍地爱所有的人。"大同"是指人人平等、自由的社会景象。
The school logo resembles a flying wheel. The circles symbolise the cohesive spirit of the teachers and pupils working together towards a common goal. The pair of wings symbolises the school soaring to greater heights, seeking higher aspirations and excellence. The character "同" gives the school its name, Ai Tong School.
校徽似飞轮状,圆圈象征全体师生为共同目标同心协力而奋斗的精神。翅膀象征展翅高飞、鹏程万里,而 "同" 字代表爱同学校。
Our School Song 校歌
(embed youtube video of song)
THE MEANING OF THE AI TONG SCHOOL SONG

The pupils and the alumni of Ai Tong School will serve the school wholeheartedly. The love for the school will never change.

We will build a strong foundation of languages and the sciences, so as to prepare ourselves to contribute to the society, to be future leaders.

Together, we pledge our loyalty to our nation.
Students Pledge 学生誓约
Students Pledge
We, the students of Ai Tong School,
pledge our loyalty to the school,
to uphold its good name,
to pursue knowledge diligently,
to respect our elders,
to be sincere in attitude,
to persevere in work and
together, create a more conducive learning environment
学生誓约
我们是爱同学校的学生,誓愿
效忠学校 维护校誉
勤奋求学 尊敬师长
以毅处事 以诚待人
共同创造一个美好的学习环境